Get Out of the Driver's Seat and Enjoy the Ride
Let men be men and reclaim your feminine power
The big challenge successful women have in love is they're used to initiating in their life. While that helps you succeed at work and works well for most areas of life, it doesn't work for love. In this module, I'll show you why initiating too much actually works against you. You'll learn how to get out of the driver's seat and enjoy the ride. This means you let men be men and you reclaim your feminine power which restores the harmony and magic in your relationship.
If love has felt like work, it's because you've been trying to initiate most everything. Initiating too much drives men away because they don't have the opportunity to be the man, and it causes you to be stressed out and tired. Love can be fun, enjoyable and even relaxing when you don't approach it like work. You don't even have to initiate if you don't want to. You can just respond to what your man initiates.
Get Out of the Driver's Seat and Enjoy the Ride is the first module of a 10-week program designed to help you see things clearly - you'll know his true intentions, how he really feels about you, and things will unfold naturally.
At the end of 10 weeks, the weight of not having love will be lifted off your shoulders and you'll breathe a big sigh of relief. Instead of feeling stressed about interacting with men, you'll feel relaxed and have the know-how to cultivate the space for him to pursue you for life. By letting him be the man, you'll be the woman he wholeheartedly shares himself with. And with him, you'll find more acceptance, tenderness, and peace than you ever thought was possible, as you realize this is what it's like to be truly intimate with someone. In that deeper intimacy is where love blossoms and you experience real love.

I'm pilot testing the first module live to make sure you get results. I want to make sure you aren't just intellectually learning the materials, but are having a deeper level of understanding, and implementing them into the way you show up with men.
My intention is to get you remarkable results in this first module, so that you'll want to continue with the next 9 modules. All modules, when combined, create a powerful and lasting approach to having the love you desire.
Your Instructor
For years, I dated men with different faces and kept getting the same dismal results in love. Like many women, I got caught up in attraction by a man's appearance and smooth-talking words. After wasting years of my life with men and in relationships that weren't right for me, I finally got fed up and started taking the path of courtship with men who had the potential for a lasting partnership. My journey of courtship led to higher-quality men, which led to meeting and marrying my husband.
I've taken the process I went through which has also helped hundreds of women, and distilled it into this course. If you're ready to settle down and stop wasting time, or if you've made bad decisions about men and don't trust yourself, Your True Love Blueprint will guide you to love with ease and clarity.
I'm so happy to share the beauty of courtship with you - a word and approach that is rarely used. My desire to save women like you, from heartache and feeling unappreciated and devalued, led me to create this course. My vision is for all women to experience amazing love. And by integrating the course teachings, your love life will positively change. You will feel cherished, appreciated, and respected by your Mr. Wonderful.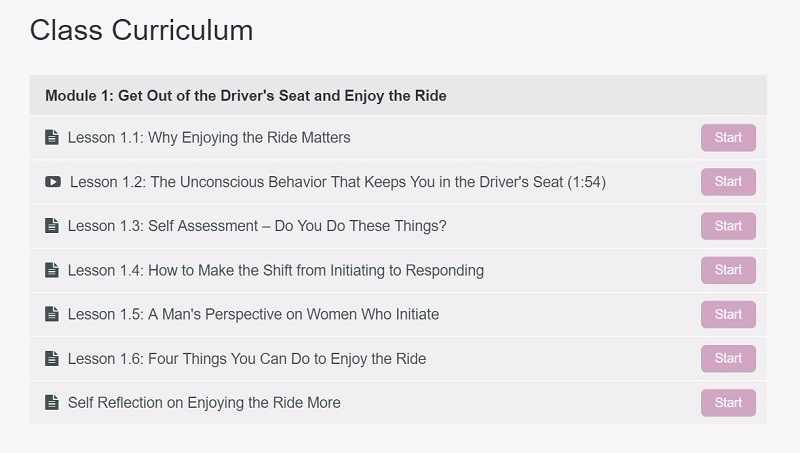 I've taught hundreds of women through my programs, and here are some of their experiences.

I've developed a standard for men.
"Janet, I will say I am a lot stronger internally since I have taken your Woo course... It has been a good journey thus far. I have developed a standard for the type of man that will show up in my life. Although I am impatient from time to time, I've realized I can use this time to go forth in my career passions and desires to prepare myself for receiving him. I appreciate you opening up the door to all of the knowledge I have received and implemented in my life." - Denise

My guy's response is positive proof I'm on the right track.
"These lessons are "spot on" as they cover issues that I really need to explore and adjust my vision to. I'm already gaining new confidence within myself and my current relationship. What's amazing is that by following these simple adjustments, I'm being transformed from the inside out and the response by my special guy is positive proof that I'm on the right track." - Christine H.

I'm no longer emotionally dependent on men.
"Since your Woo Course, I became more open to people and have more friends than ever. I made steady and sustainable progress in gaining back my confidence and not to be emotionally dependent on any man or person. I have a long way to go and I enjoy the journey. My life is not yet turned around, but I am ecstatic with my progress and I do see a light in the tunnel…" - Tina

I'm now open to dating.
"The Woo Course helped to open my mind and think differently. I became better at being open to dating." - Niamh

I ended a toxic 2-year relationship.
"As a result of the Woo Course, I began to value and love myself more. I gained confidence and self-esteem. I feel worthwhile rather than feeling like no one will ever want me. Your words and suggestions gave me the strength and power to now make my decisions based on my core values. Your words, "Choose in favor of your core values seemed to jump out at me, giving me the strength to conclude a really toxic 2-year relationship. Obviously I'm sad but I know exactly what I want and deserve now. I have to say your course is giving me a total life changing experience. Now I am in no rush; I am at peace. I suddenly have all the time in the world; I look forward to tomorrow and each tomorrow after that. Right now I just want to get used to the new me. I am so grateful to you... I feel blessed that I found you Janet... the course seemed to work its magic very early on in the first few lessons..." - Mary
Frequently Asked Questions
When does the pilot program start and finish?
It starts September 24 and ends October 1. We will have 3 live group calls with Q & A sessions that will take place online from 9:00 a.m.-10:00 a.m. Pacific time on Saturday and Sunday, September 24 and 25, and Saturday, October 1. And in between, you'll receive specific practices to implement into your life.
What do you mean by pilot program?
This is the first time I'm delivering this course in this way, and I'm committed to providing a love-changing experience for you. In this experiential pilot program, you'll have direct access to me, my guidance, resources, and specific practices. And the feedback you share will help with future iterations to this course.
What if I want to participate, but can't make the live calls?
You can still participate. The calls will be recorded and you'll receive them right after our calls take place.
How long do I have access to this part of the course?
You have lifetime access, even if you decide not to continue with the remaining 8 lessons. After enrolling, you have unlimited access for as long as you like - on any and all devices you own.
If I want to continue taking the rest of this course, how do I enroll?
At the end of our third group call, you'll receive information on how to enroll and gain access to the full course, "Goodbye Dating, Hello Courtship", where you'll cultivate the space for him to pursue you for life. And in return, you'll feel cherished, appreciated and respected.
What if I'm taking the self-study Woo Course. Can I still enroll in this program?
Yes. Just send an email to
[email protected]
and in the subject line put, "I Want Enjoy the Ride". You'll receive a code where your enrollment fee will be just $20, the difference between the self study and pilot program,
Do you have a guarantee?
If after the first call, you don't feel you're receiving the value you were hoping for, I will happily refund you the amount you invested.
What should I do if I have other questions?
Learn how to get out of the driver's seat and enjoy the ride so you can restore the harmony and magic back to your love life. Enroll now to reserve your spot and receive personalized guidance and results that make love more fun, enjoyable and relaxing.
This course is closed for enrollment.